Men's portraiture is not an easy area to work in because clients, unless they are professional actors or models, are usually extremely stressed by the idea of posing in front of the camera. That said, the need to be photographed can arise for a variety of reasons. Image and business shots help to build a business and career, and beautiful family and personal photos will please not only the customer himself but also his loved ones!
An important advantage is the ability to use software tools to edit the image. This often helps to convince a man to appear before the lens of the camera. For example, with the help of Retouchme.com/add-beard-to-photo-app, it is easy to add a hero's brutal unshavenness, elegant goatee, mustache, or even a full beard.
Today we will talk about how to organize a shoot that will bring pleasant impressions to all participants and allow you to get spectacular shots! This material will be equally useful to photographers and their clients.
Choose the right location
To decide where to hold a photo shoot, you need to decide on its concept. For a business portrait, a studio, a study, or the premises of an office center will be suitable. Image shots can be made in locations that correspond to the customer's sphere of activity. And for lifestyle shots, you do not need to choose something special – hold a photo session in any place that is to the liking of the man. The location should always be discussed with the client in advance.
Remind the model about the preparation for the shooting
It is almost impossible to get good pictures if the client arrives at the photo session sleep-deprived, hungry, irritable, tired, or sick. It is extremely important that the day before the man had a good rest (without alcoholic beverages), and was not troubled by problems or rush. Also in advance you should prepare 1–3 sets of clothes and shoes, corresponding to the concept of shooting. The photographer can take with him a comb and hair styling product to quickly put the client's hair in order if necessary.
Eliminate tension
Most men feel nervous and self-conscious in front of the camera, even if they don't admit it. The photographer should strike up a casual conversation about topics of interest to the client to help them relax and open up their emotions. Another trick is to say that the first shots are test shots (they are often the most successful). Such tricks allow you to bypass the defense mechanisms of the psyche.
Bet on natural poses
As a reference point during the shooting, you can be guided by photo references from the Internet, but there is no reason to be tied to such templates. Each man has unique facial features and physique, for which poses and angles can be selected "on the fly". It is important to relieve the model of tension and encourage improvisation. If there is nowhere to put your hands, you can put car keys, a cigarette, or a pen in them. Also, the man can run a five-fingered hand through his hair, correct the cuff for the camera, lean on the furniture, or hide his hands in his pockets, etc.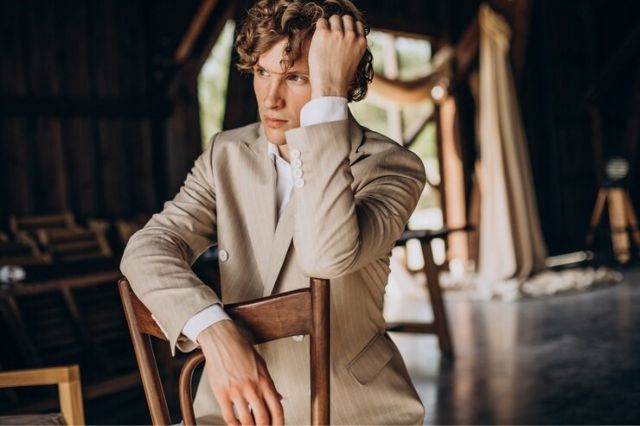 Experiment
There are many recommendations for choosing "purely masculine" poses, angles, and shooting concepts. But in reality, you should only be guided by your aesthetic perception and the wishes of the client. Experiment with the choice of environment, light, and emotional mood. This approach will not only keep the model from getting bored but will also help to get interesting shots.